Libertarianism from a practical, consequentialist perspective.
Friday, August 05, 2005
This is an outrage!
The EU is seriously considering
fining employers
in Bavaria whose employees where the traditional dress for serving beer.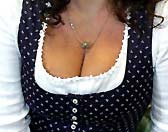 About Me
Name: Joseph
Location: Santa Ana, California, United States
Previous Posts
Welcome
This work is licensed under a
Creative Commons License
.
Blogroll
Activism
Who Links Here